Bad design?! A lesson in procrastination and complacency.
Let me start by stating this; I am not a trained designer. That's my excuse and I'm sticking by it! It has nothing to do with procrastinating and complacency... Well, maybe a little. Ok, maybe a lot.
I have designed every piece of product labelling and artwork for Poly-Props since 2016. It's become something of a passion now. I quickly learnt that errors in my work had nothing to do with talent, but with laziness and bad habits.
Foam Clay: My biggest nemesis.
Foam clay has become one of the biggest products in crafting; certainly in cosplay. When Poly-Props Ltd decided to add this product to our offerings, I was tasked with creating the product label. Yes. That monstrosity of a label was created by me. Yes, I am ashamed, and it took me around 3/4 years to change it.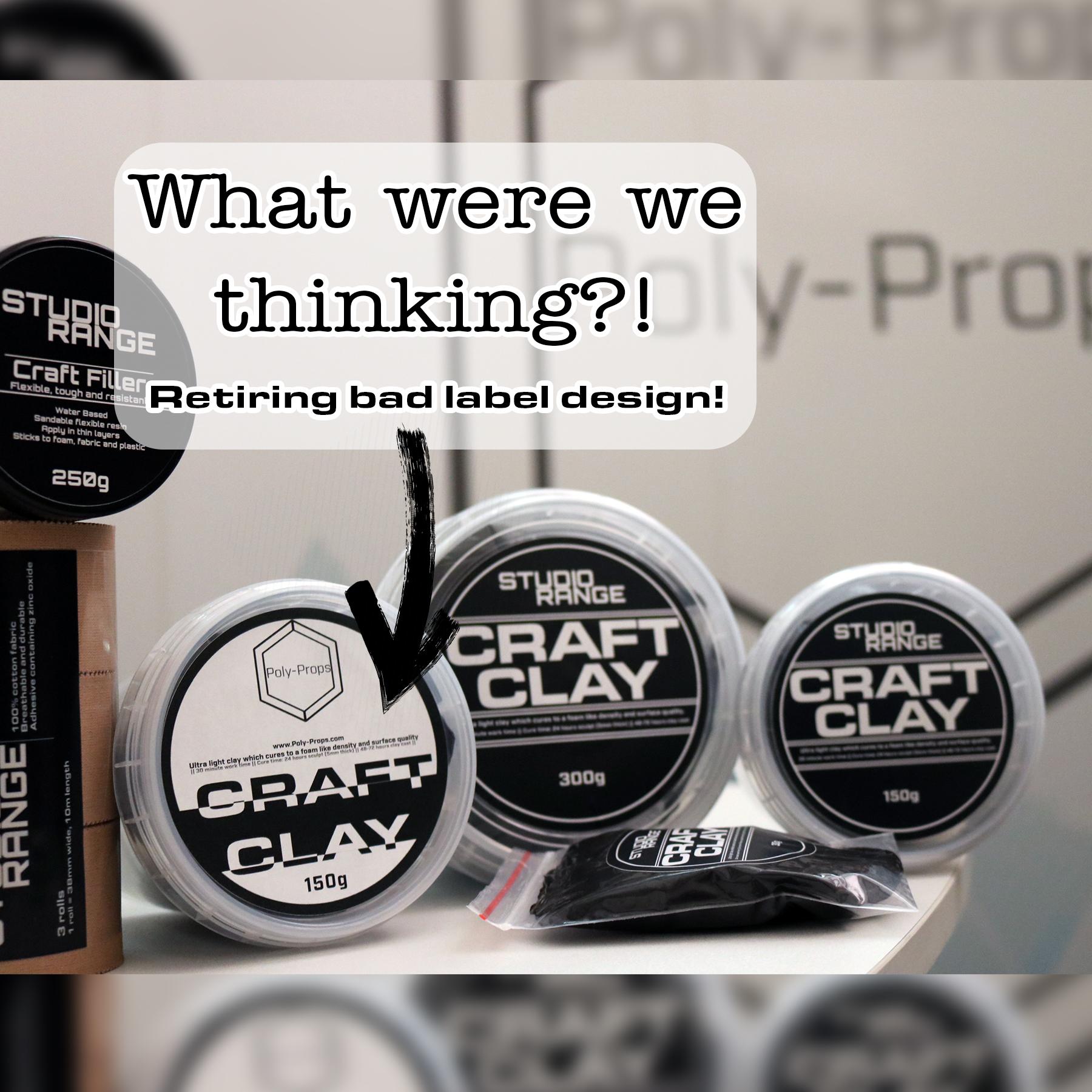 Creative procrastination.
As you know, keeping focus is tough, especially when you have so many other projects jumping around in your head. I am terrible for giving myself distractions, disguising them as "creative breaks". When I think about it, how many times did I ACTUALLY hit a creative wall? When I created the label for Hexflex, which is our flexible paint range, I was full of focus and determination. It's probably my favourite product label.
So why was the foam clay design so different? Perhaps because every store had its own version of the product, or maybe because I didn't put much passion into sculpting? Something was off, and so was my focus. I pushed away from working on this design as much as I could. I would open my design software and just play with shapes. If only I could shape EVA foam as I do with digital shapes when procrastinating; I'd probably be a foam sculpting guru by now!
As you all know, deadlines are a thing (crafting crunch, am I right?) so I left it until the last minute. Using the "last minute method" or "LMM" as I now often call it, will only lead to mistakes. BIG mistakes!
I know what I'm doing, right?
45 minutes. That's the amount of time I spent on a final version of a label design. Didn't show it to anyone. I knew what I was doing. I am a master and no one can tell me otherwise. Second opinion? No thanks, that'll just slow me down.
I submitted the labels to our printer. "Hello Mr Saunders, here are proofs of the design, can you finalise it?". Remember, I knew what I was doing. I am a master and no one can tell me otherwise. No checks, just a final click to submit. Oh yea, we're on our way to foam clay town babeh!
Let's pause for a second. Remember when I said I spent time just playing with shapes, just putting things together, making funny lines? You do, do you? Well, I didn't at the time, and I submitted the wrong labels. I sent my 'play around and not do much' files.
10,000 of each size. With 3 sizes, I had 30,000 ugly reminders of how naff I am.
Learning through the process
In some ways, I'm glad it happened. It's not like anyone said anything. The community we serve is always supportive of our brand, and they supported the product like all the others. I am forever grateful for that, however, I know I failed. I failed myself.
With this failure, however, I created work that I am genuinely proud of. Simple lessons such as "focus on the brief, be creative and always check your work " are often put to one side. I now publish my work to close friends and designers, to give me feedback and tips.
So if you're ever in a position where you question yourself, your work or your results, take a lesson from my book; not every piece you produce is going to nail it. Take a lesson from it and keep creating.
Check out foam clay, Hexflex flexible paint and other creative products over at www.poly-props.com.



Written by Rick Saunders: Ricky@poly-props.com