Covid-19 service updates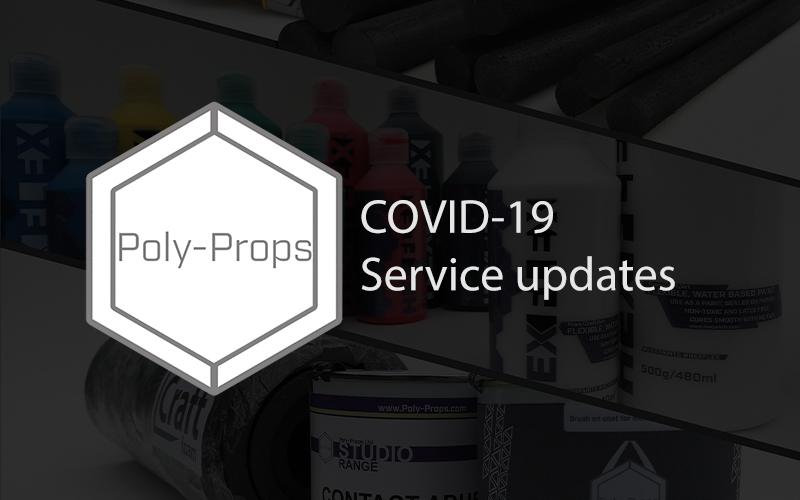 30/03/2020


As of 30/03/2020 we will be pledging as much support as we can to companies and businesses that are manufacturing PPE equipment for key workers. If you would like to communicate with us regarding material support, please review section 2 of this page.

Section 1:
Poly-Props service status


Online store
The online store is currently open and taking orders.
Shipping
Express shipping is no longer available. Standard shipping will take 3-7 WORKING days (Monday-Friday).
Staff
There will only one member of staff in the warehouse dispatching orders and one member of staff processing enquiries and shipping information. Members of staff are not coming into contact with other colleagues or couriers UNLESS an emergency arises.

Other staff members have been given paid leave until further notice.
Phone lines
Phones lines are a low priority and will not be monitored or answered. Please email us if you need to contact us; info@poly-props.com .
Material availability.
Material availability is still at a high level, however, please expect some key materials to be out of stock. LD45 foams and PETG filaments are used to create face guards for key workers. Our stock will now be prioritised for this purpose.
Collections
Our site is closed off to customers. Collections will not be accepted with zero exceptions.

Section 2
Material support


Materials support to create PPE

Please note, that we will only be working with verified businesses and services. The development of PPE is a specialist field. Enquiries to acquire material with zero project verification from key services will be ignored.

Community projects

Unfortunately, we will not be supporting community projects, such as funding campaigns or social media shout outs. There has been a huge increase of unverified projects. It distracts attention and funds from key services. As amazing as your intentions are, we must focus attention on verified services that have a big impact on protecting the NHS, public services and the community.

Poly-Props will be donating materials and funds to services making a difference, and they will have our undivided attention. If you would like to discuss your project, please email info@poly-props.com .